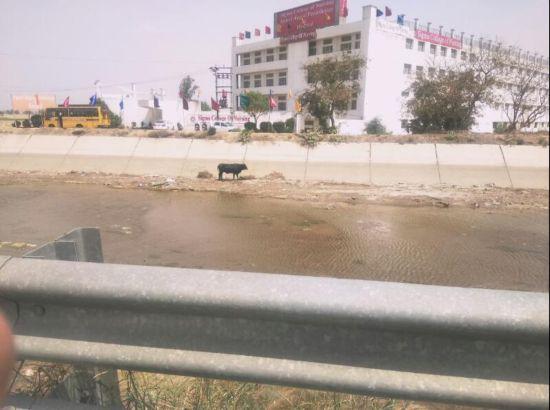 Two young Dhyan Foundation volunteers pull cow out of canal in Ludhiana
Two young volunteers of NGO Dhyan Foundation on Saturday saved life of a cow by pulling her out of the bed of the Sidhwan canal here.
An abandoned cow fell into the canal near Sigma College of Nursing here. For hours, she was not able to get out on her own as it was difficult to climb the several feet high concrete slope of the canal's bank.
The case was brought to the notice of the Dhyan Foundation whose volunteers Dushyant and Mithun reached the spot. Both rushed to the spot and tried to seek help to pull her out.
The help of the police was also sought which did not come about.
Both volunteers finally arranged a rope and pulled the cow with it after a long struggle. Both also sustained minor injuries in the process.
"We are taught by Yogi Ashwini Ji, the guiding light of Dhyan Foundation to selflessly help the weak and those in distress, be it a human being, animals, bird or even plants which fall within out sight,: said Dushyant, a young entrepreneur and DF volunteer
.