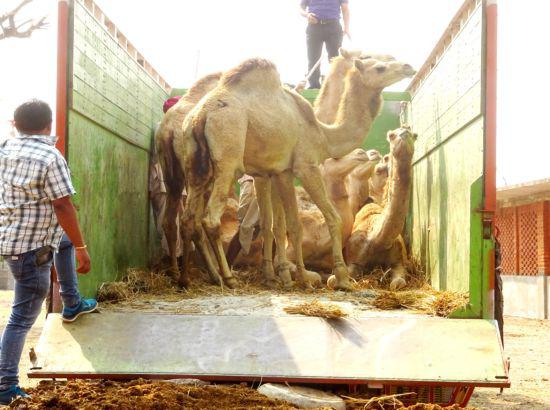 Patna, May 1, 2017: (By Raju William) On the plea of Dhyan Foundation (DF) - a spiritual, charitable organisation working for animals' welfare, High Court of Patna has ordered to release 49 camels immediately to it for their rehabilitation.
DF had waged a sustained 5-month long legal battle led by its guiding light Yogi Ashwini for the release of the seized camels and handover their custody to it for their safety and rehabilitation.
Originally, 61 camels were rescued from the hands of animal smugglers who, in cahoots with official/administrative machinery, were illegally transporting them for sale and subsequent slaughter from Rajasthan to Bangladesh.
The HC also directed that DF would shift the released camels back to safety in Rajasthan and the State-respondents would fully cooperate in shifting of the camels.
In a statement, DF spokesperson said that on November 28, as many as 61 camels were seized by Circle Officer from Khagra Mela from the animal smugglers and upon learning of the news, the DF volunteers rushed to the aid of camels and filed for their release.'
Doing so, they faced threats, attacks and severe resistance from all quarters such that it took 5 months and finally a High Court order to rescue and shift the camels back to safety to Rajasthan as the hapless animals had no business being in Bihar.
In this duration 12 camels died and a 61-year-old female activist, Nitasha Jaini, who is also a renowned painter, was cornered and brutally assaulted by the goons of smuggling-mafia in the very premises of High Court of Patna.
In order to avoid this survival struggle in future, both for the camels and the animal activists, strong measures must be taken to check illegal smuggling of camels across the state borders. The court observed, Article 51A(g) of the Constitution of India and Section 3 of the Prevention of Cruelty to Animals Act, 1960 create constitutional and legal duty on everyone to ensure the well being of animals and to prevent infliction upon such animals of unnecessary pain or suffering.
As for the 49 of the 61 camels that survive, state must ensure they reach home safely without delay, as also directed by the High Court. Also, there is urgent need to provide protection to the activists, who are under constant threat from the smuggling mafia, especially now, since they have directly hurt the business of the camel traders in the region.
The article was published in

Babushahi

.