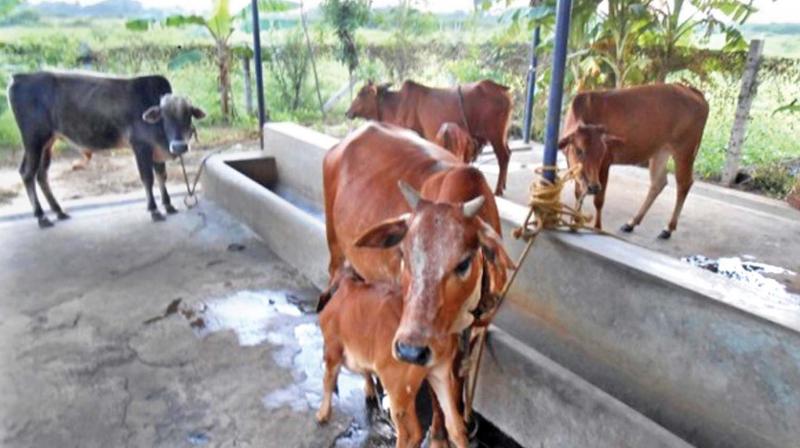 CHENNAI: Yoga does not mean mere personality development or improving one's health. But it should radiate concern for all living beings leading to effective measures to contain negativism. This is what yoga guru Ashwini appears to demonstrate. His disciples or volunteers, drawn from various walks of life, helped him establish 30 goshalas across the country to take care of sick cattle and those rescued from the abattoirs. "We are being intimidated by those running slaughter houses and are facing 2,000 cases in various courts. But still our mission to protect cows and camels, abandoned dogs and monkeys, continues," says Yogi Ashwini who was in the city on Sunday.
Within four years, his DhyanFoundation has established 30 goshalas, 50 dog points (feed a dog) and 4 shelters under 'help a monkey' scheme. Each goshala accommodates 500 to 1,000 cows and the maximum number of 1,200 cows is being taken care of at the goshala in Hyderabad. In Krishnaganj (in West Bengal) the Dhyan Foundation volunteer was attacked on the high court premises for preventing the sale of camels to the butchers. The shelter here takes care of 800 cows and calves besides 71 camels. Tamil Nadu's Keezhampur village is becoming a nightmare. Thousands of cows are dying uncared for. Realising the implications, about 12 volunteers from the foundation, along with their colleagues from Bengaluru, rescued the cows.
"No one is willing to spend from one's pocket. But my volunteers take a sabbatical from their work and spend days rescuing and feeding the cows and calves," he said and wondered what role the governments and other organisations were playing in preventing the wilful killing of the animals. "And when government releases funds, much of it is siphoned off and meagre sums are used to feed the cows," he adds. Asked what kind of solution he could foresee for Tamil Nadu gripped in political crisis and terror threat looming large from across India's borders, he replied "in Tamil Nadu, people have high energy but low consciousness. Unless the consciousness level of the people is raised, there will be total anarchy."
Political instability will continue in TN till a right thinking person emerges. The politics of appeasing the minority and creating vote bank will never succeed. India is a multi-lingual and religiously diverse. There should be appeasement of none and an all inclusive approach should be followed. "We should take pride in our culture. Yoga is something that has been given to us, accept it. Don't oppose it. Vedic culture should be made part of the educational curriculum. No negative energy enters your house nor will you fall sick if you learn my yoga. The Sanatan kriya that I teach is pure science," he emphasises.